Private Yacht Charter Vacations
---
Go anywhere, in your own time and at your own pace. Luxury accommodation, top-of-the-line amenities and professional service delivering an exceptional experience.
Get away for a day - a weekend - or longer. An extraordinary vacation!
Yacht Vacation Destinations.
---
Bahamas Yacht Vacations
Whether you prefer the sophisticated nightlife and exclusive shopping in Nassau and Paradise Island, mingling with the rich and famous in the Exuma Cays or solitude and island-style relaxation in the out-islands, the Bahamas has it all.
Why a Luxury Yacht Vacation?
---
Your yacht charter vacation is all about water, sun and new horizons. Limited only by your desires!
Stretch out on a sunpad on the foredeck with a good book for relaxed sunbathing while the kids have fun on an inflatable slide or climbing wall.

Spend the morning playing in the water; having a wild time on a jet-ski or towed on a tube or perhaps kayaking along the shoreline.
Break for lunch on the beach enjoying your favorite cuisine; succulent seafood ... or is that a burger and fries?
Ease away some afternoon hours snorkeling a nearby reef or combing the beach, perhaps exploring caves and coves.
Then return to your yacht to relax over sun-downers with some favorite music.
On an overnight luxury yacht charter? Dress up - or not - for a fine alfresco dinner then put your feet up and watch a movie or gather on the aftdeck for socializing and after-dinner-drinks.
The great thing is tomorrow you get to do it all again ... or something entirely different ... here, because you love the location, or venture off to new horizons.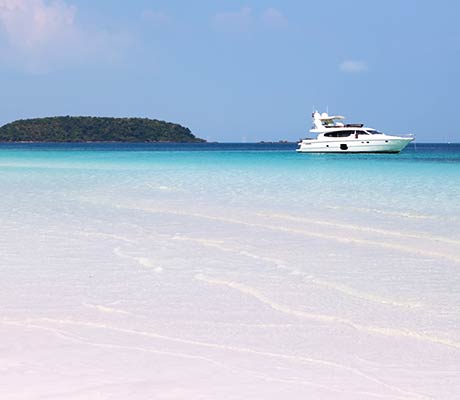 Imagine the Possibilities
family picnic on a secluded tropical beach
island-hopping from one attraction to the next
snorkeling, jet-skiing, diving, kayaking
relaxing and fine dining with friends

Choosing Your Yacht
---
No different to choosing a luxury resort for a shore-based holiday, your crewed charter yacht should provide everything you need for a fabulous vacation.
The charter price must obviously suit your budget; see the yacht vacation cost section to know what's included in the price.
The accommodation must cater for the size of your group; check # guests for day charters and # cabins for overnight charters (usually two guests sleeping per cabin)
The style and features of the yacht must suit your guests and itinerary. For instance, deck space might be important for large groups or fast cruising speed important for quick journeys.
The activities your charter group enjoy should be catered for by the yacht's inventory of water toys. See our guide to water toys in the blog.
All our charter yachts are crewed, luxury motor yachts, so common throughout is guest safety, professional, friendly service and fine dining. See the luxury charter yachts in our fleet.
Cost of a Yacht Vacation
---
Choose between prepackaged vacation trips with all inclusive prices or 'roll-your-own' yacht vacation itineraries which we'll help plan to suit your budget.
What to Consider
the yacht; larger, more modern yachts are more expensive
the destination; longer journeys use more fuel which is a significant element of the overall cost.
Yacht vacation prices are quoted per charter and not per person.
All-inclusive Charters
Prices for day and weekend-getaway charters with prepackaged itineraries are all-inclusive and include: the yacht with crew, fuel, use of the toys, meals, beverages and local tax.
The only additional expense is the crew gratuity of 10-20%. It's not compulsory but is customary.
Payment
Payment is by wire transfer. You can also pay for day charters by credit card. 50% of the charter fee is payable when confirming your booking. The remaining 50% is payable one month before the departure date.
Plus Expenses Charters
If you want to rent a yacht for a week or more, your vacation package will have a completely flexible itinerary and for this reason the price is made up of a Charter Fee plus Advanced Provisioning Allowance ("APA") of 30-35% of the charter fee.
The Charter Fee includes the price of the yacht, crew and use of facilities.
The APA covers those expenses that fluctuate according to the itinerary; including fuel, meals, marina expenses and local taxes.
The APA is held by the captain and disbursed as needed. You receive a detailed account at the end of the charter, along with the refund of any unspent balance.
Book Your Yacht Vacation.
---
If you would prefer us to help with your reservation or enquiry
call us on 754 207 6216
.
Online reservation is dead simple. We'll hold your reservation for 48 hours and notify you of the next steps.
Where Do You Want To Go
Select vacations in the Bahamas or Florida.
Help Me Choose
Give us your preferences, we'll send you suggestions for yachts and itineraries.