Bahamas Yacht Charter
---
The Coronavirus is forcing us to rethink vacation choices. Getting off the beaten track on a private yacht charter in the Bahamas makes perfect sense.
700 enchanting islands and over 2000 rocks and cays. What's more, it's 70-80° year-round and boasts the clearest water on the planet — a dream destination for travelers of all kinds. Imagine soaking up sun amid the pristine beaches of this tropical paradise. With historic towns, sheltered waters and welcoming locals, this destination offers the perfect place to get away from it all with a slower, more enjoyable pace of life. Whether you love diving, snorkeling or sunbathing, it's all possible when booking a private yacht charter in the Bahamas.
In short, the perfect yachting playground!
With a Go By Yacht charter, you get the ultimate luxury getaway experience. Whether you choose a Bahamas yacht day charter, book an overnight yacht trip or take a few days to discover the islands, you'll enjoy top-class personal service and amenities. Take advantage of the personal watercraft, water sports equipment and entertainment options included with your rental. On larger yachts, indulge in fine dining with a personal chef accompanying you.
Bahamas Yacht Charter Experiences.
---
You really are spoiled for choice, regardless of how long you charter a yacht in the Bahamas.
Choose a yacht rental in the Bahamas to suite your needs: Book the afternoon, a day, three days or a week long vacation with completely flexible itinerary. Most yachts will carry up to 12 day guests and six to eight overnight. Swim with the pigs at Exuma Cays; explore Thunderball Grotto; or take your pick of soft, white, sandy beaches alongside crystal-clear water. Your charter can depart and end wherever you wish in the Bahamas.
Booking your luxury yacht charter in the Bahamas is quick and easy, whether you're selecting an all-inclusive rental or customizing one. Book your yacht rental today!
All Inclusive Day Charters
---
Depart from Nassau to your chosen destination for a day away from the crowds.
the real Bahamas ... water, sun and sand!
Visit First Beach on Rose Island, a mile long white powder sand beach protected by a coral reef. Perfect for watersport action, beach-combing and sunbathing.
Just 5 miles north of Nassau, visit First Beach, a mile long white powder sand beach protected by a coral reef - perfect for beach-combing where your crew can set up one of our famous beach bbq's. After lunch head over to Green Cay for snorkeling to see the turtles in their natural habitat. End your day with a sunset cruise into Nassau harbour.
Exuma Cays: All-action adventure; swim with pigs at Big Majors and the nurse sharks at Compass Cay. Then snorkel through James Bond's Thunderball Grotto.
Eleuthera: Explore Dunmore Town by golf cart and enjoy a casual lunch at a beach bar. Stroll along the world-famous Pink Sand Beach.
Exuma Cays: Stop over at Allen's Cay to feed the local iguanas then on to the sand bar at Saddleback Cay for some serious relaxing.
All Inclusive Overnight Charters
---
Take the perfect short break to revitalize. Absolute comfort and luxury surrounded by exquisite scenery while enjoying your favourite activities.
3 days and 2 nights of absolute bliss!
Day 1: Allens Cay, Highbourne and Saddleback Cay
Day 2: Big Majors, Compass and Staniel Cay
Day 3: Shroud Cay - Bahamas Land & Sea Park
Day 1: Spanish Wells
Day 2: Devils Backbone and Man Island
Day 3: Dunmore Town and Pink Sand Beach
Day 1: Whale Cay
Day 2: Bird Cay and Chub Cay
Day 3: Chub Cay
Bahamas Custom Charter Itineraries.
---
Plan your own Bahamas yacht rental itinerary or tell us what should be included and we'll help plan it for you. Help Me Choose
Island charters in the Bahamas can depart and end wherever you wish. Choose to start or end your trip in Nassau or any other island. Remember though that a delivery fee might be involved to get the yacht to remote locations.
If you are planning a Bahamas luxury yacht charter in the Out Islands* we recommend it's best to fly to a nearby airport to avoid long ocean crossings which would be weather dependent.
* These include Cat Island, Long Island, San Salvador, Acklins, Crooked Island and Ragged Island.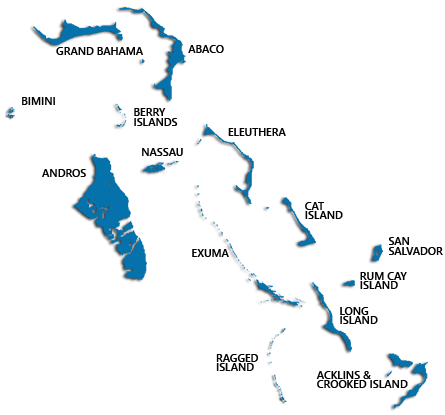 Yachts for Charter in the Bahamas.
---
Not sure which charter yacht to select? Contact us, we'll recommend luxury yachts suitable for your Bahamas yacht charter itinerary.
If you don't find the ideal yacht, let us know what you're looking for and we'll find it for you ... from 35 ft fast center-consoles to 200 ft superyachts.
Book Your Bahamas Yacht Charter.
---
If you would prefer us to help with your reservation or enquiry call us on 754 207 6216.
Online reservation is dead simple. We'll hold your reservation for 48 hours and notify you of the next steps.
Book My Charter
Select the date, destination and yacht for your charter.
Help Me Choose
Give us your preferences, we'll send you suggestions.