Exuma Cays
3 Day Yacht Charter Experience
---
Playground for the rich and famous, featuring hundreds of cays revealing some of the most popular tourist attractions in the Bahamas.
Your itinerary takes you from Nassau to the Northern Exuma Cays, stretching 70 miles from Highbourne Cay to Staniel Cay.
Action packed adventure and island-style relaxation.
Day 1: Nassau to Highbourne Cay
Head south from Nassau for Allens Cay to feed the local iguanas before arriving at beautiful Highbourne Cay. Check out the nurse sharks that swarm the marina and enjoy a tour of the island.
Spend the afternoon at one of The Bahamas' most beloved landmarks - the sandbar at Saddleback Cay, where action awaits with water sports activities or a peaceful stroll along this untouched beach.
Enjoy an evening of relaxed luxury aboard your yacht while at a secluded anchorage, where you'll be treated to sunset cocktails and dining beneath the stars!
Day 2: Highbourne Cay to Staniel Cay
Set out early for Big Majors, Compass and Staniel Cay, where adventure awaits with the world-famous swimming pigs, shark feeding and snorkeling in James Bond's Thunderball Cave!
Unwind at the end of this fabulous day with sundowners at the Staniel Cay Yacht Club before a sunset dinner at Big Majors.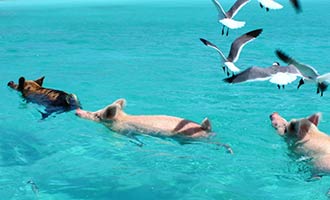 Day 3: Staniel Cay to Shroud Cay
Make your way back north through the pristine waters of the Exumas and get ready for an explorer's dream come true at Shroud Cay, located at the northern edge of the Bahamas National Trust Land & Sea Park.
Navigate the mangroves by kayak, comb the beach for shells and other washed-up treasures, and take a dive in one of The Bahamas' natural wonders - the 'washing machine'.
Take all the time you need to revisit and appreciate these incredible three days, cocktail in hand, as you make your way back to Nassau.