Bimini Yacht Charter
---
Bimini consists of two main islands; North Bimini Island and South Bimini Island, as well as numerous cays. Located just 50 miles off Florida's coast, it is easily reached by boat or plane.
The Gulf Stream rushes north, washing past Bimini, feeding and warming its coral reefs and serving as a watery highway for everything from marlins to mantas, dolphins to sea turtles. Even the famous author, Ernest Hemingway, was lured to Bimini by tales of the incredible fishing available here.
North Bimini is known for it's beaches and is the island's tourist hub. Alice Town and Bailey Town stretch the length of the narrow finger of land along the west of North Island and host restaurants, marinas and resorts.
South Bimini is nature-centric featuring eco tours, nature trails and marine research stations. It also has numerous stunning beaches and snorkeling and diving sites.
Only one airport serves Bimini. Daily scheduled air service is available from Nassau, Grand Bahama and Florida. There is also a seaplane service into Resorts World Bimini.
Yacht Charter Info
---
Being as close as it is to Florida, it is an ideal destination or first-stop on yacht charters to the Bahamas departing from Florida.
Bimini is also available as an all-inclusive 3 day charter from Miami.
If you need help planning a custom itinerary for your yacht charter use our Custom Itinerary Form to get suggestions.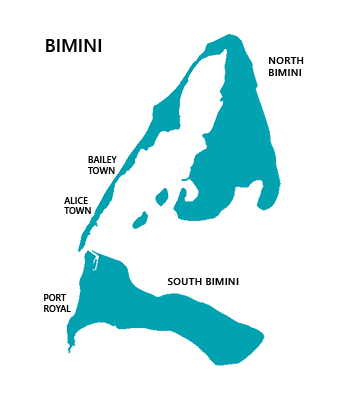 Attractions
---
You can snorkel in shallow lagoons and over reefs, kayak in the creeks, flats, ponds and the ocean, go kite-boarding and paddleboarding, ride a water trampoline or Hobie Cats, and have a unique adventure swimming with wild Atlantic spotted dolphins.
More than 50 record-setting catches have been made in Bimini waters, including huge tuna, wahoo and swordfish. The flats have an abundance of bonefish and wrecks close to shore hold large grouper, fan-size grunts and schools of snapper.
Bimini might be small, but it's big on beaches, most of which have fine white sand and are found on the west side of North Bimini. The most popular is a long section of three continuous beaches, stretching from Alice Town to Bailey Town.
Bimini offers fun-filled family activities from dawn to dusk. Activities on the water include swimming, picnicking, kayaking and much more. Snorkel the legendary Bimini Road supposedly leading to the lost city of Atlantis.