Rent a Yacht for a Day
---
When you think of a yacht charter do you picture the mega-wealthy cruising exotic locations and visiting hot-spot playgrounds like Monaco? Truth is, yacht vacations are available for all. Right on your door-step and for a period that suits you. Rent a yacht for a day or as long as you like.
Both Florida and the Bahamas feature yacht rental destinations as good as you'll find anywhere. Clear, calm waters set in idyllic tropical surroundings — perfect sailing playgrounds. Rub shoulders with celebrities and the in-crowd, enjoy a wild time on water toys with friends or get away with the family to footprint-free beaches.
If you've never spent time on a luxury motor yacht, rent a yacht for a day or half a day.
It's the perfect way to find out if a yacht charter vacation is for you.
Day Rental Yachts
---
A crewed, luxury yacht offers the ultimate day out on the water. Your private yacht offers all the facilities you'll need for entertainment and comfort. The captain and crew are on hand to take care of your every need from the moment you step aboard.
The crew on smaller yachts will include a captain and hostess while larger yachts will have more crew including a personal chef.
Luxury motor yachts accommodate up to 12 day guests. There is plenty of deck space for taking in the sites, sunbathing, socializing and alfresco dining. Need to escape the sun for a while? Step into the spacious, air-conditioned salon and watch a movie or listen to some music.
Get active! Launch your favorite water toy from the swim platform or let the kids play on the water-slide. The crew can hook up water skis or a towable tube to the tender for hours of crazy fun. Perhaps snorkeling a nearby reef or exploring a cove is more to your liking.
From 60 to 150+ feet, there's a yacht in the fleet that's ideal for your day yacht rental.
Day Yacht Rental Destinations
---
Here's something to remember about a yacht vacation — if you visit a location you really enjoy, stay as long as you like. Hungry for more? Venture off to find new attractions. It's all up to you!
Florida
Renting a yacht for a day in Miami will give you a whole new perspective of this city. For example, the amazing downtown skyline or the quirky Art Deco district — truly at their best when viewed from the deck of your yacht.
Include dinner at a sophisticated beach-side restaurant in your itinerary. You'll turn a few heads as you step ashore from your luxury yacht!
See Florida yacht charter experiences.
Bahamas
There's so much more to the Bahamas than luxury seaside resorts. After all, there are hundreds of islands and cays and there's no better way to experience them than on a yacht charter.
From Nassau numerous islands are within reach of a day yacht rental. A boat for the day will take you to nearby Rose Island, Harbour Island on Eleuthera and Highbourne and Staniel Cays in the Exumas.
Rent a yacht for a day and experience unique Bahamas attractions like pink sand beaches, swimming with the pigs, feeding the nurse sharks and snorkeling James Bond's Thunderball Grotto.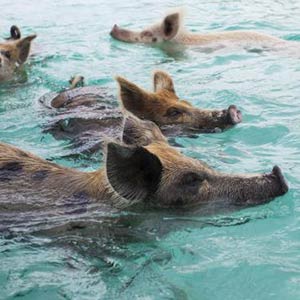 Just looking for a change of pace from sunbathing on the beach? Get out on the water with a half day yacht rental. You will have the most memorable time on the yacht's water toys.
A Bahamas yacht charter offers more vacation destinations than you could possibly hope to get to. But certainly includes the tropical island for your holiday bucket list!
Day Yacht Rental Prices
---
The price of a day yacht rental will depend on the location, the yacht and the destination you choose.
As an example, half day yacht rentals on a 60 foot yacht in Miami start at under $4000, while a day charter in Miami is available from $5000.
In the Bahamas a half day yacht rental on an 80 foot yacht starts at $7000. You can spend a day aboard a 130 foot superyacht from $16000.
We offer fully inclusive charter prices, including the yacht, crew, fuel and taxes. The only additional cost is a crew gratuity of 10-20%.
Payment can be by credit card or wire transfer — whichever suits your circumstances.
Book a Day Yacht Rental
---
Deciding to rent a yacht for a day is often a spur of the moment thing so we focus on making it quick and easy. Go to our online reservation for all inclusive day trips.
We'll reserve the yacht and date and be in touch to confirm the next steps.
Leave a Reply
Will be published after moderation.