How Much Does it Cost to Charter a Yacht?
---
Get out on the water and have some fun for half a day: from $4000
Visit a nearby destination for a day: from $8000
Have a mini-break for 3 days: from $18000
Take an extended week vacation: from $80000

The cost to charter a yacht varies by region, yacht and destination.
Understand what's involved to plan your perfect itinerary:
What is a Yacht Charter?
---
A yacht charter is the rental of a yacht from the owner for a specific period of time.
The charter is arranged by a yacht broker (that's us). The broker takes care of preparation, financial and legal matters and coordination between you, the owner and yacht captain so that everything's ship-shape by the time you step aboard.

You will be required to sign a charter agreement which sets out the terms and conditions of the rental.
Type of Yacht and Charter
You will have seen the terms "yacht charter" and "boat rental". While charter and rental mean the same thing, a yacht charter refers to motor yachts and sailing yachts which have accommodation facilities (cabins) and are 50 to 200+ feet in length. A boat rental on the other hand usually refers to the hire of small pleasure craft such as dinghy's, ski boats, pontoon boats and so on.
The main types of charter are:
bareboat: a yacht without crew (normally only sailing yachts)
skippered: a yacht with a captain
crewed: a yacht with a captain and crew. The number of crew members will depend on the size of the yacht
At Go By Yacht our charter yachts are all luxury motor yachts and all are crewed.
Role of the Crew on a Charter Yacht
Your captain will take care of the sailing and your safety. The professional crew will offer you top-class personal service from the moment you board and around the clock.

Larger yachts will also provide a personal chef to prepare meals and snacks according to your preferences.
Private Yacht Charter
In the case of a private yacht charter, which is what we offer at Go By Yacht, the yacht is rented for exclusive use by you and your guests and the itinerary is tailored to your desires and your needs.
Unlike a cruise ship vacation, the timetable on a private yacht charter is completely flexible and up to you. If you find the perfect spot; stay as long as you like. Feel like a spin on a jet ski? Go ahead there is no queue!
Aboard Your Charter Yacht
Relax and enjoy yourself while the crew tends to your every whim. All yachts offer a range of facilities such as toys for fun on and under the water, plenty of sun-bathing and relaxing options, movie and music entertainment and fine dining.
How Long is a Yacht Charter?
---
The traditional yacht charter is seven days. So, if you board Sunday morning you can stay until the following Sunday morning. Most brokers quote a weekly rate and it is normally aboard a large yacht (100+ ft) with sufficient crew to provide 5 star guest service 24/7.
At Go By Yacht we also offer charters for shorter periods.
Day Yacht Charter
One day yacht rentals are for short trips. A very popular activity in Nassau and Miami, is to visit nearby islands and beaches or just get out on the water for some water-sports fun. Charter a yacht for a day (8+ hours) or half day (4 hours) and have a sensational day out.
1 day yacht rentals are a great charter to book if you are new to yachting vacations — the perfect way to test-the-water. You'll be blown away by the experience!
Overnight Yacht Charter
Overnight yacht rentals can be for any period … a weekend getaway or a 3-4 day mini break. Popular with couples and families alike, itineraries are flexible and can be planned for complete relaxation or high-octane adventure trips.
Popular destinations in the Bahamas include Berry Islands, Eleuthera and the Exuma Cays, all within easy reach of Nassau.
When choosing a yacht for your charter check the minimum charter period as not all yachts are available for periods shorter than a week.
Remember too that many islands are beyond the reach of a day charter from Nassau. The sailing time to get there might leave no time to enjoy the local attractions. If you'd like to visit any of the more remote islands of the Bahamas or are staying on one, speak to us about arranging a custom yacht charter itinerary.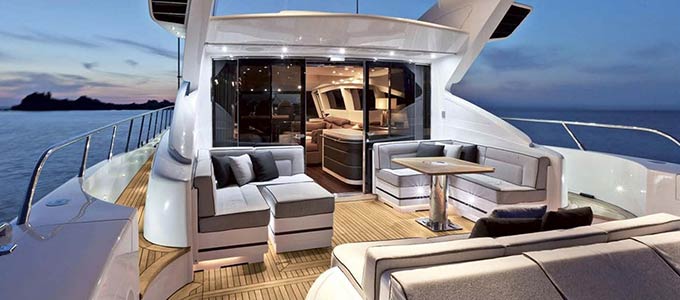 What is the Cost to Rent a Yacht?
---
The cost to charter a yacht includes a charter fee, which is the cost the owner sets for the rental of the yacht. It includes the rental of the yacht, its facilities and the captain and crew.
This charter fee varies from yacht to yacht according to the size of the yacht, the facilities offered; like water toys, onboard entertainment etc, and the size of the crew. The age and status of the yacht will also influence the fee. Wouldn't you expect to pay more to rent a brand new, super-luxury yacht owned by a famous person?
In addition, there are running costs: those that vary depending on your itinerary:
fuel for the yacht, generator, tender and water toys
food and beverages
docking fees and shore power in marinas
local taxes
Day Charter Prices
Day charter prices include the charter fee and an itemized list of the additional expenses.
Day rentals in the Bahamas include food and beverages. However, day charters in Florida only include beverages, so here you should self-cater for alcohol, snacks and meals for the trip.
Multi-day Charters
The prices of multi-day charters include the charter fee plus an Advanced Provisioning Allowance ("APA").
The APA and How it Works
The Advanced Provisioning Allowance covers the variable costs of your yacht charter like fuel, dockage, food and beverages. These costs vary according to your itinerary and personal food and drink preferences.
The APA is 30-35% of the charter fee. It is held and accounted for by the Captain and you receive a detailed account at the end of the charter, together with the refund of any unspent balance. If the APA balance runs low during the charter, you will be expected to provide the captain with a sufficient amount to cover the needs for the remainder of the charter.
If you prefer not to carry quantities of cash, make prior arrangements to release funds to the captain if needed.
What the Charter Price Does Not Included
Crew Gratuity: While tipping is not compulsory, it is customary, with a recommended rate of 10-20% of the charter fee. It is paid to the captain at the end of the charter and shared evenly between the crew.
Delivery Fee: This does not apply to most charters. However, if you wish to board your yacht at some remote location there may be a delivery fee to get the yacht to you. This fee is normally just the cost of fuel for the delivery trip.
When and How to Pay for the Charter
Payment for your charter is by wire transfer. For day charters you may also pay by credit card. 50% of the charter fee is payable when confirming your booking. The remaining 50% plus the APA are payable one month before the departure date. If you book a charter which starts within 4 weeks the full amount is payable at the time of confirming your booking.
Compare Yacht Charter Prices
---
So, let's look at how all of the above translates into the real-world cost to charter a yacht:
Bahamas Yacht Charter Prices
PERIOD
YACHT
CHARTER
FEE
EXTRAS
*APA
CHARTER
PRICE
Half Day
80 ft
$ 6560
$ 590
$ 7150
120 ft
$ 10880
$ 980
$ 11860
One Day
80 ft
$ 8750
$ 4360
$ 13110
120 ft
$ 14500
$ 7320
$ 21820
3 Days
80 ft
$ 18000
$ 7020*
$ 25020
120 ft
$ 37500
$ 14630*
$ 52130
Week
120 ft
$ 75000
$ 29250*
$ 104250
Florida Yacht Charter Prices
PERIOD
YACHT
CHARTER
FEE
EXTRAS
*APA
CHARTER
PRICE
Half Day
60 ft
$ 3300
$ 400
$ 3700
100 ft
$ 7130
$ 860
$ 7990
One Day
60 ft
$ 4400
$ 660
$ 5060
100 ft
$ 9500
$ 1460
$ 10960
3 Days
60 ft
$ 12500
$ 5260*
$ 17760
100 ft
$ 28500
$ 11980*
$ 40480
Week
100 ft
$ 57000
$ 23940*
$ 80940
Leave a Reply
Will be published after moderation.